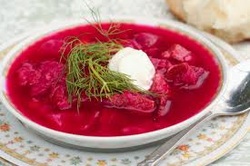 Eating Russian is not boring. And it totally does not suck! The old Russian Empire was so huge in its size geographically, that many dishes that are called Russian today - are originating from a wide area. Spreading from Eastern European region to the far East. From the typical Nordic dishes to ones with Chinese and Middle Eastern Influences.

This brings so many flavors to the mix, that it can be difficult at times to chose what you want to eat today. From cold cuts and fish typical for the northern regions, to spicy hot dishes of the south - your taste buds are going to be pleased.


Here are top 5 reasons to choose Russian food for your next guest arrival.
Healthy and delicious.


1. BEETS
Beets are growing extremely well in Russia and are well known for their body purifying qualities.

Health benefits range from fighting cancer and heart disease, beets are also rich in folate, manganese, potassium, fiber, Vitamin C and iron.
Beet juices are often used for body detox and work very well.

Find beets in vegetable salads like Vinegret to soups like Borscht, and enjoy this great health food that you can get numerous benefits from. If you eat it.


2. KEFIR
Kefir is a tart yogurt like drink made from fermented milk that is called the "health elixir" in Russia and is a staple beverage for many years. Originating from Caucasian mountain region kefir is only now gaining its popularity in US.

Health benefits include huge array of beneficial enzymes and healthy bacteria that aids to a healthy digestion and gastro intestinal health. Its proven to boost body's immune system, helps fight disease and improves overall health. It is common to see kefir used as a hangover and indigestion remedy by many.

Find kefir as a drink in a bottle, or as a dressing on a salad. Many dipping sauces are made mixing kefir tanginess with garlic and dill, creating a great sauce.


3. FISH
Salted fish, marinated fish, pickled, smoked or pan seared are just a few ways from what the Russians used for centuries. Fish was the only meat allowed at time of fast by Russian Orthodox Church and thats why there are so many ways that it found its use in so many dishes.

Health benefits from eating fish are getting rediscovered every year, but from what is known to date is that fish is an excellent source of lean protein. It has lots of Omega-3 fatty acids that are beneficial for heart health, support neurological development, reduce tissue inflammation, help relieve rheumatoid arthritis depression and irritable bowel syndrome.

Eat your fish Russian style in famous "UHA" soup (pronounced "oohaa"), or grilled, salted, baked or smoked. Fish roe caviar is also available at many locations where russian food is served. Including ours (but do call in advance to check availability)


4. CABBAGE
In the old days cabbage in Russia was one of few vegetables that could keep for a year or more, keeping peasants fed from last harvest in the fall till new one next year.
So its abundance transformed into popularity with many regions.

Health benefits from eating cabbage are ranging from plenty of cancer fighting nutrients to even treating of peptic ulcers. Its rich in vitamin C, fiber, manganese, vitamin B6 and folate. When cabbage is fermented into sauerkraut it also has an added benefit of of good bacteria from fermentation that aids healthy digestion.

In traditional russian cooking it is used in stews and soups, salads and as wrapping material for meat balls, known as stuffed cabbage.


5. KVASS
Kvass is known as the Russian Coke. It is a fermented beverage made from wildly available in Russia dark sourdough rye bread. It has a beer-like taste, and is not alcoholic. But it can be, if left fermenting long enough. Kvass has been enjoyed in Russia for well over 1000 years.

Health benefits from kvass are mostly on digestive aid level. Since its created by natural fermentation kvass has lots of good bacteria, is rich in vitamin B and is great with hangover help as well.

So it seems like you can enjoy great food and keep your body healthy at the same time.

Visit our store anytime ( when we are open...) to try some of the foods that we have fresh made. You will absolutely love it, we guarantee!

Keep in mind- you have to eat well to be well.